Department of Civil Engineering, one of the primary department of the Hinthata Technological University, has longest history in the University. Its history started since the beginning of the Technical High School (T.H.S) on 1977. Then, it was promoted as GTI in 1982, GTC in 1999 and HTU in 2007. Therefore, Civil Engineering Department of HTU is 43 years old in engineering education service. The department got ISO 9001:2008 certificate for Quality Management System since 2016 and upgraded to ISO 2001:2015 version in 2019. Civil Engineering Department has offered undergraduate courses since 1999. At present, the department offers six-year BE degree in which the main subjects are Structural Engineering, Water Resource Engineering, Geotechnical Engineering, Transportation Engineering, Construction Engineering Management, and Environmental Engineering. In our Civil Engineering department, total enrollments have 258 undergraduate students who are learning First year to Sixth year. Students are also doing the regular basic jobs and the special projects at the end of each academic year. And then, the final year students are also doing the B.E mini thesis and going to the industrial attachments.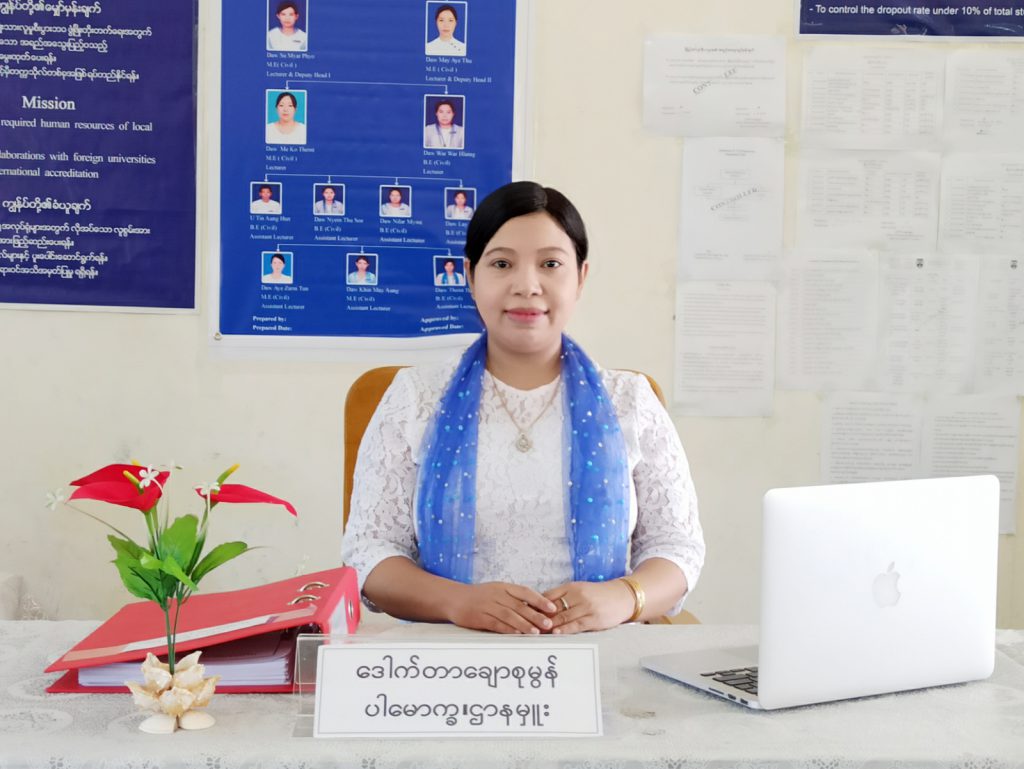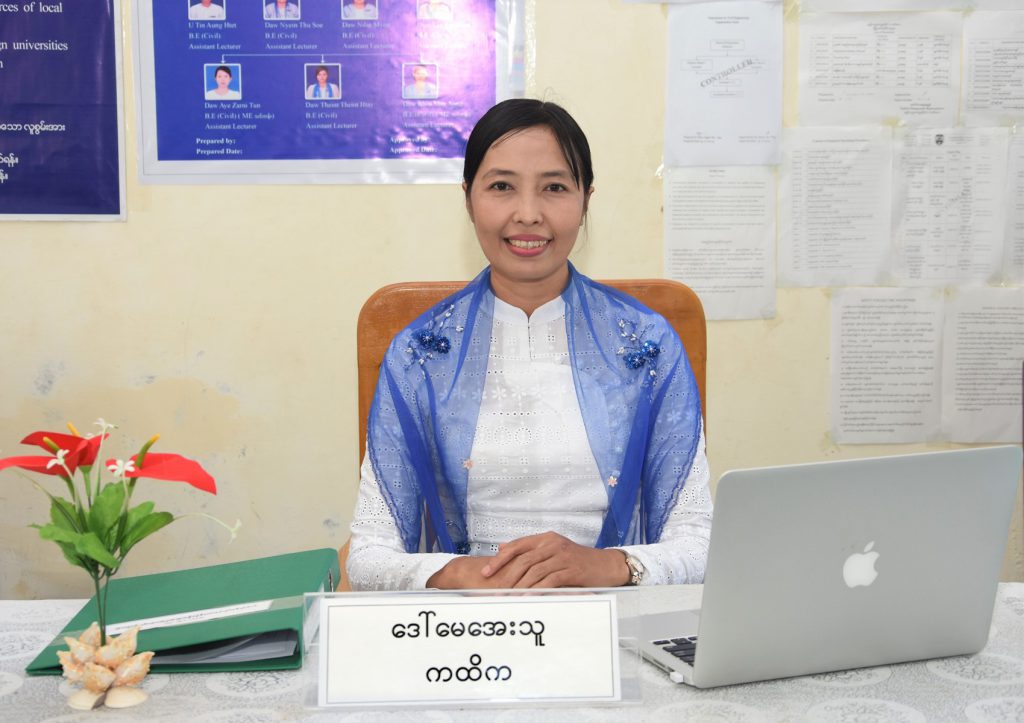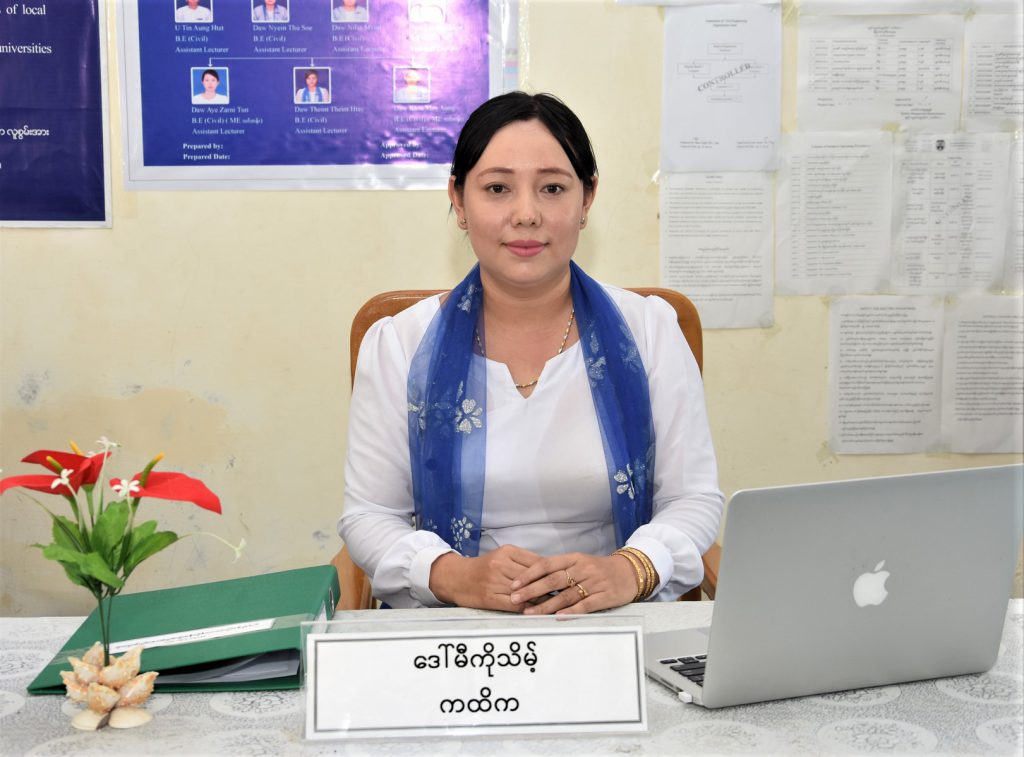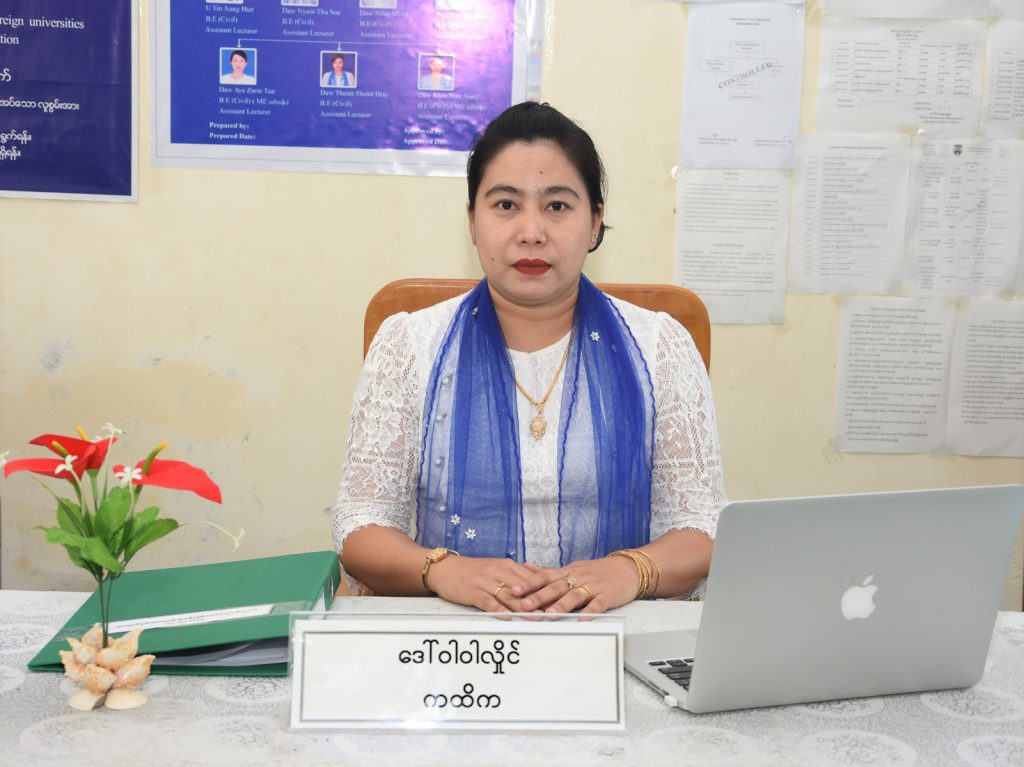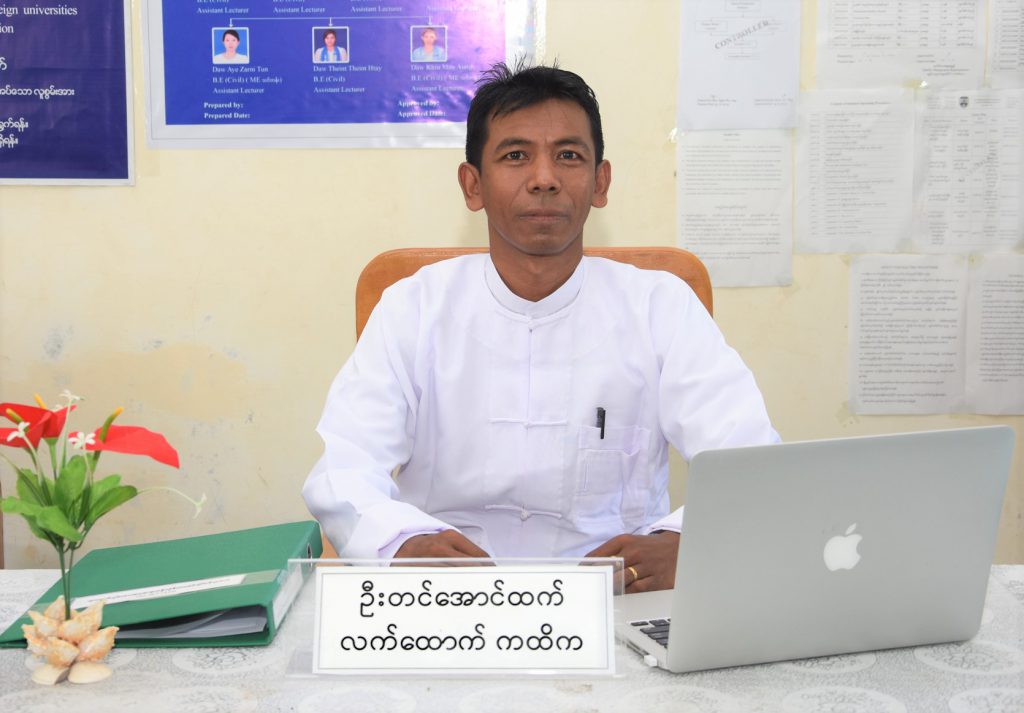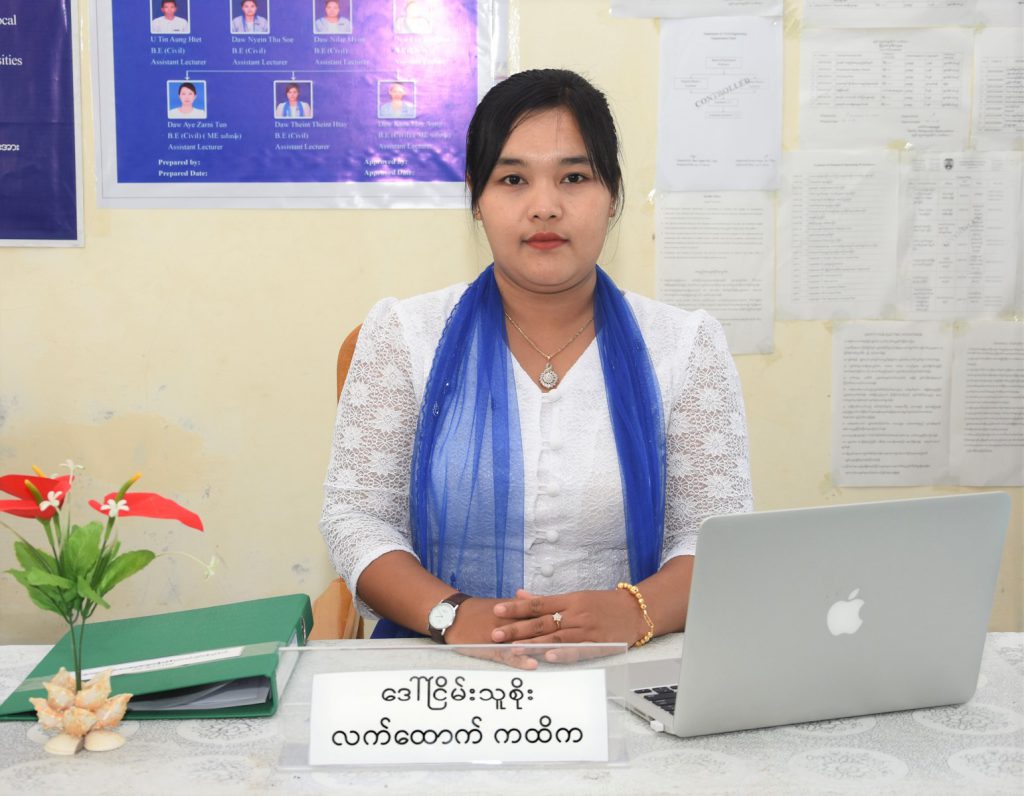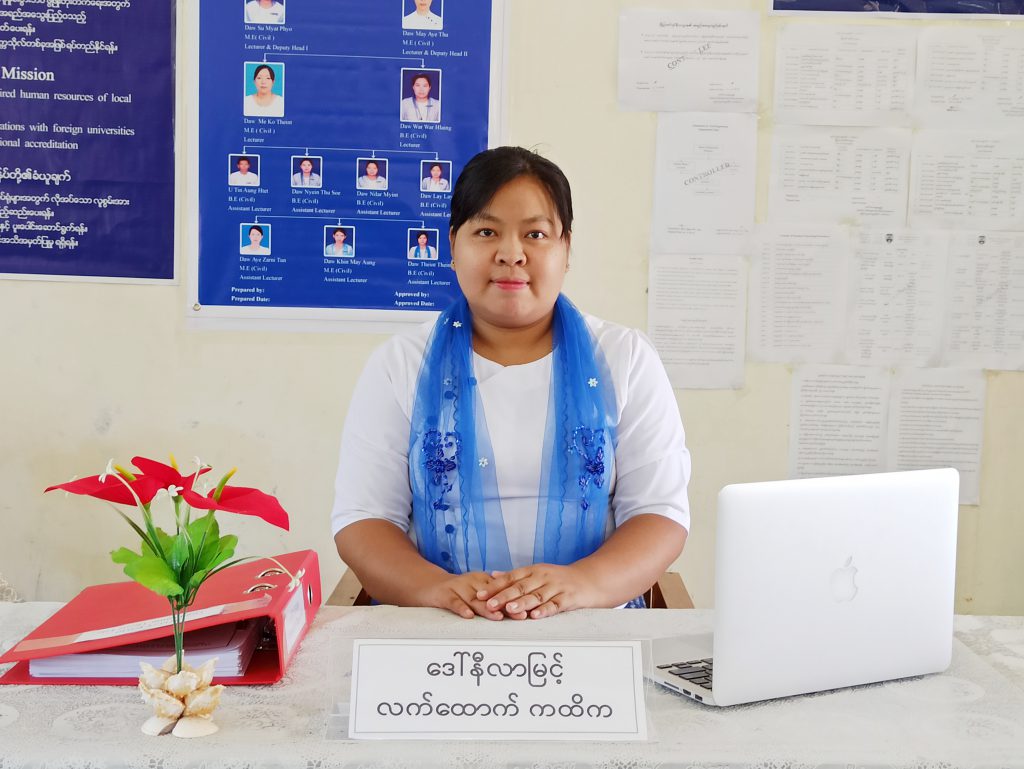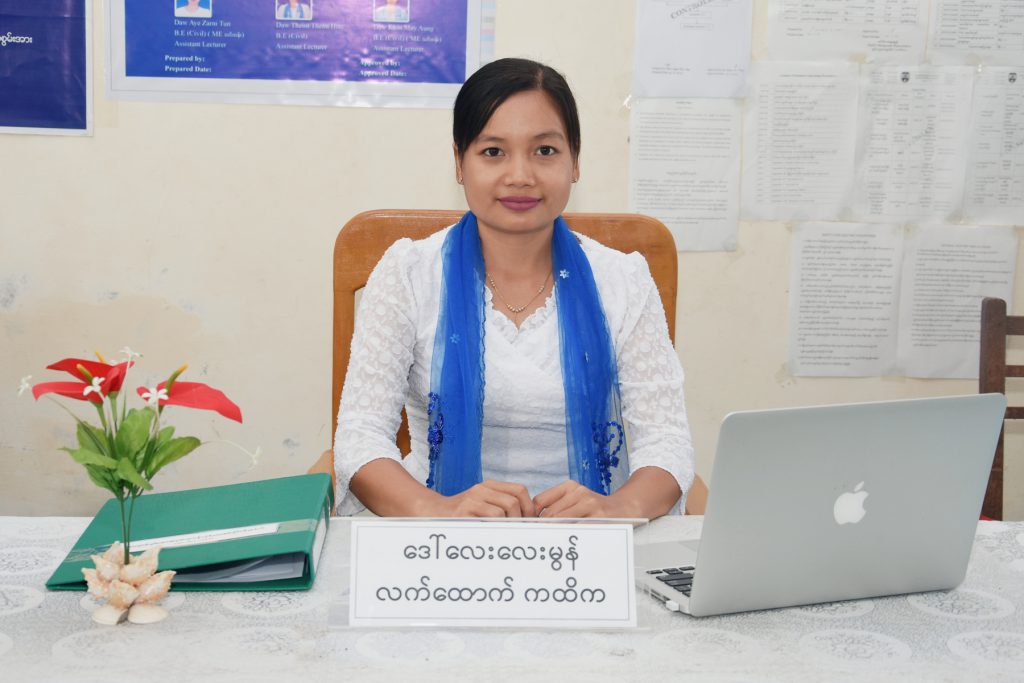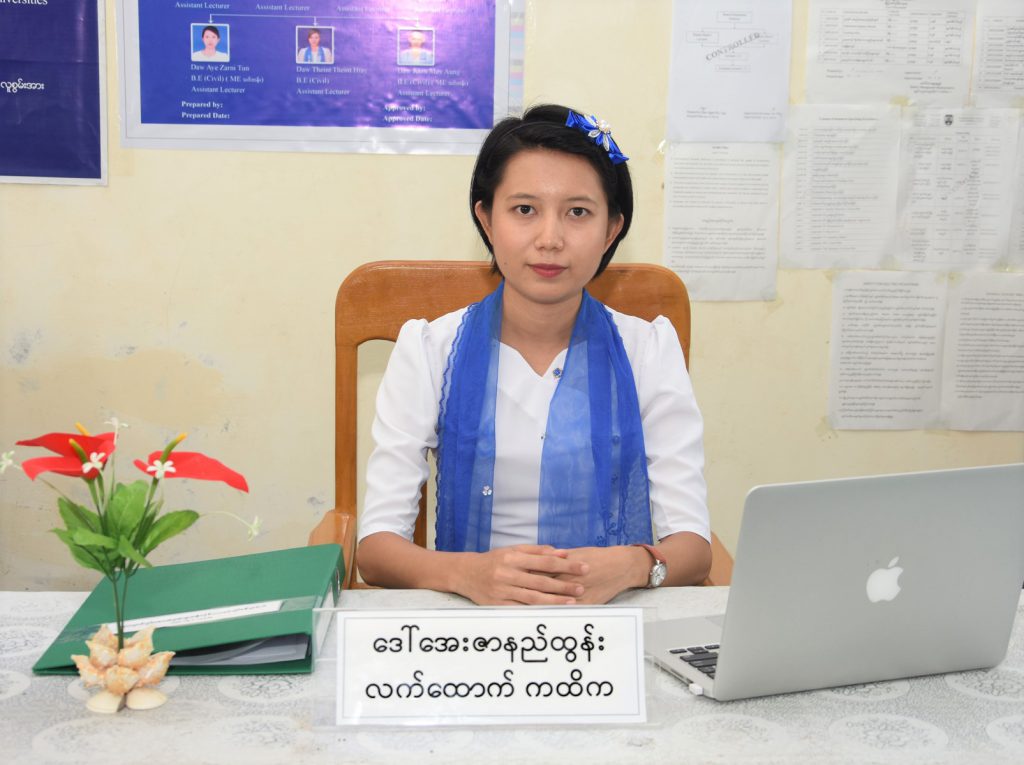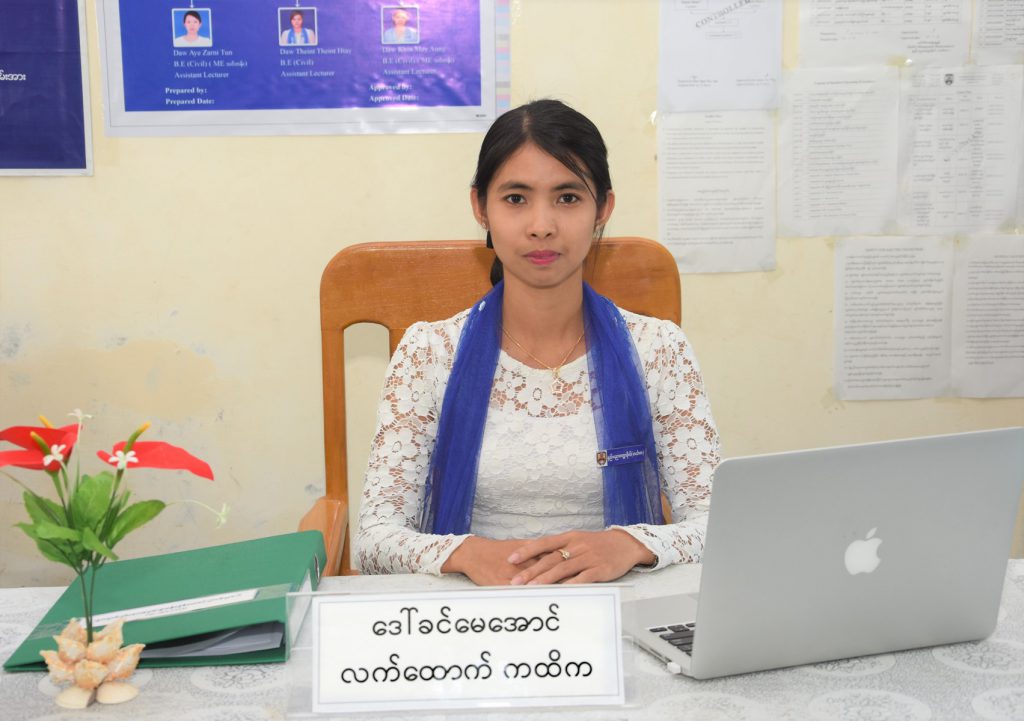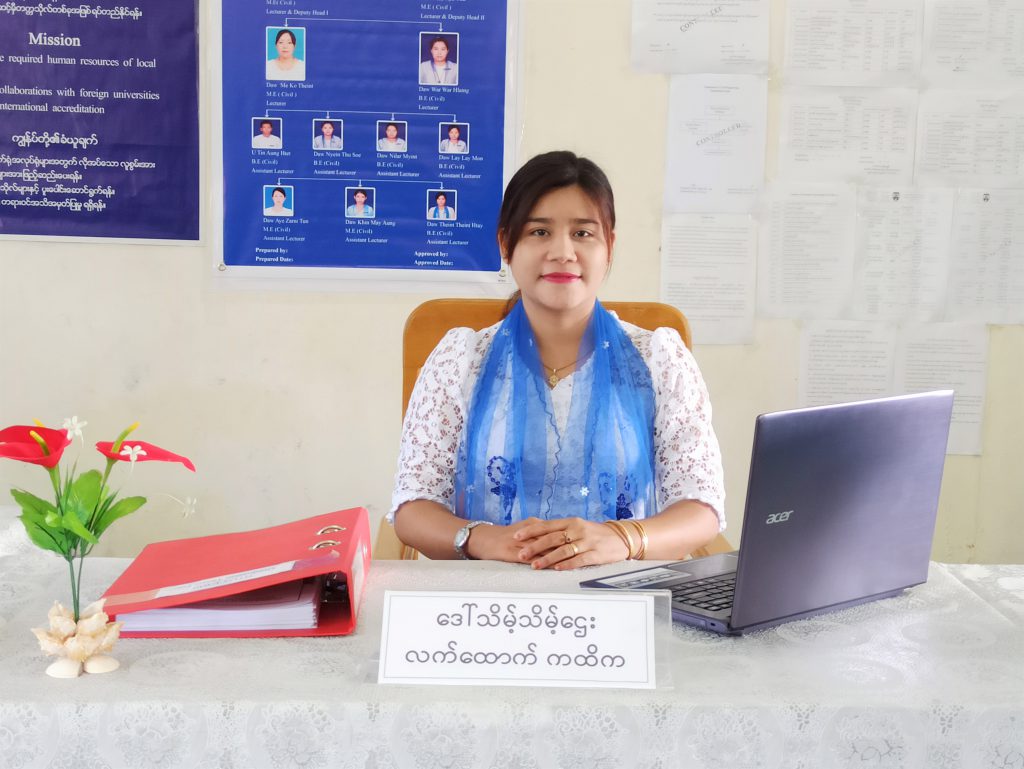 Our Vision
To generate qualified Civil Engineers to support the national socioeconomic development of country.
Our Mission
To impart quality education in Civil Engineering and knowledge and skills required for career challenges.
To fulfill the required human resources of local industries and benefit our society through research, creativity, problem solving and application development.
Objectives
To carry out for the getting 79% of student's satisfaction regarding to teaching and learning process in the analysis of customer satisfaction in Civil Engineering Department for (2009-2020) Academic Year.
To provide graduates having skills, leadership qualities, professional ethics and the ability to design and construct physical infrastructures as related to the field of civil engineering in our society.
Laboratories
Department of Civil Engineering has six laboratories and one workshop.
Building Materials and Construction Lab
Survey Lab
Fluid Lab
Hydraulic Lab
Geotechnical Lab
Environmental Lab
Carpentry and Masonry Workshop
Building Materials and Construction Lab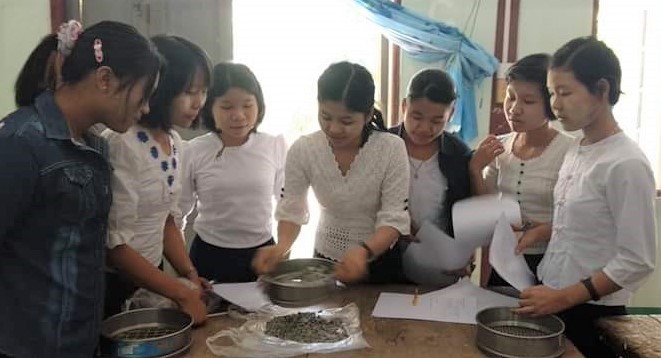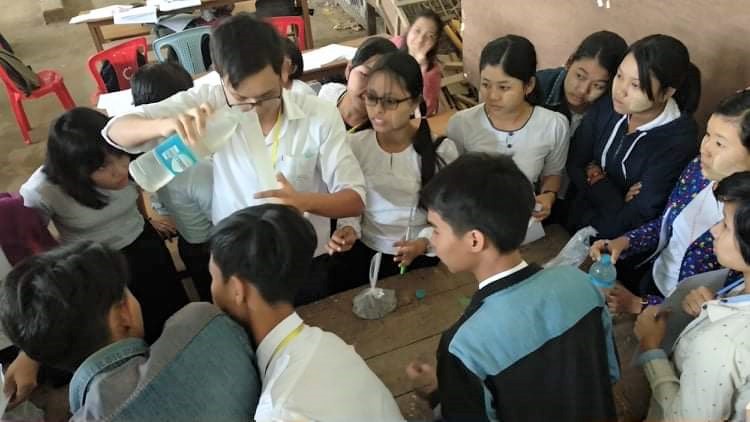 Survey Lab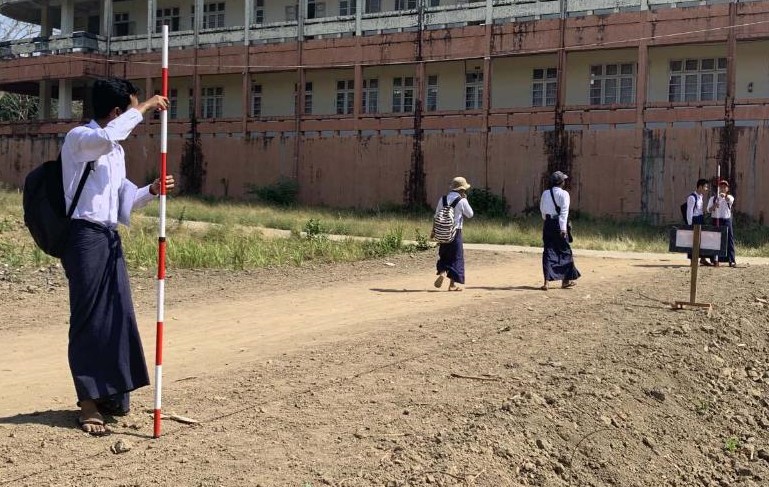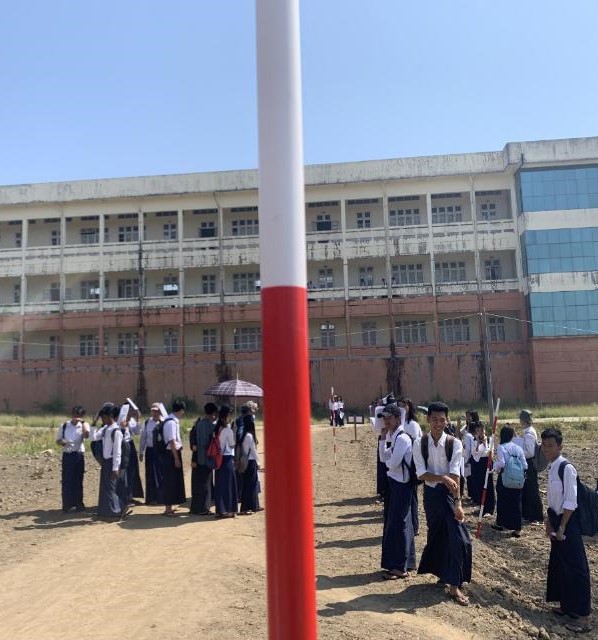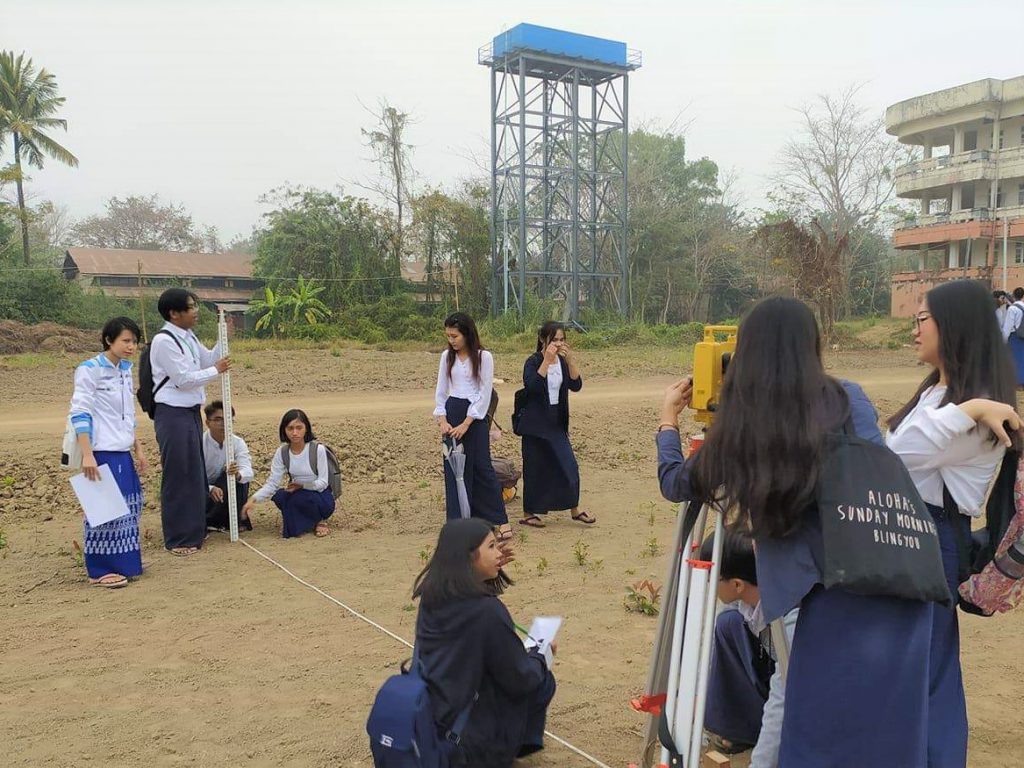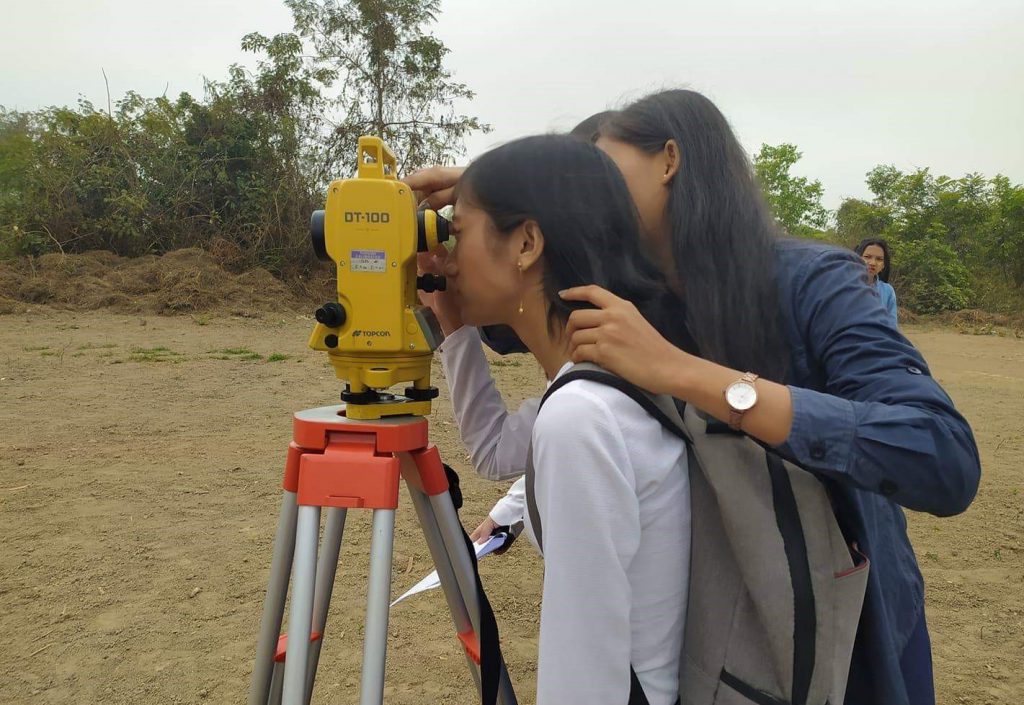 Fluid Lab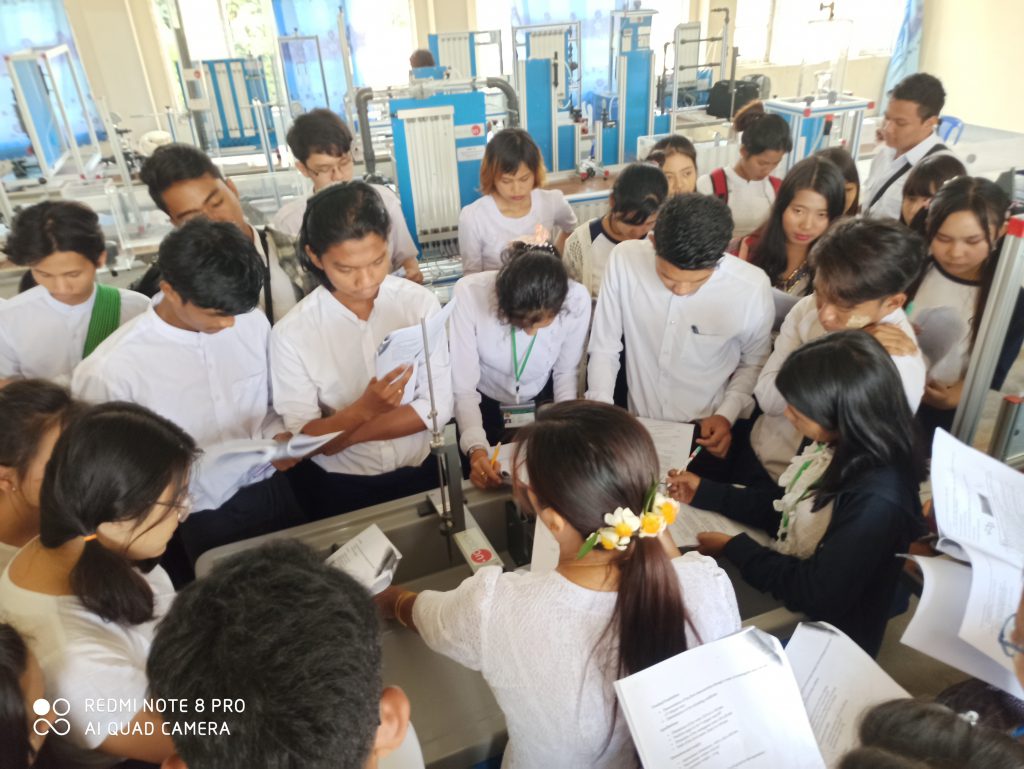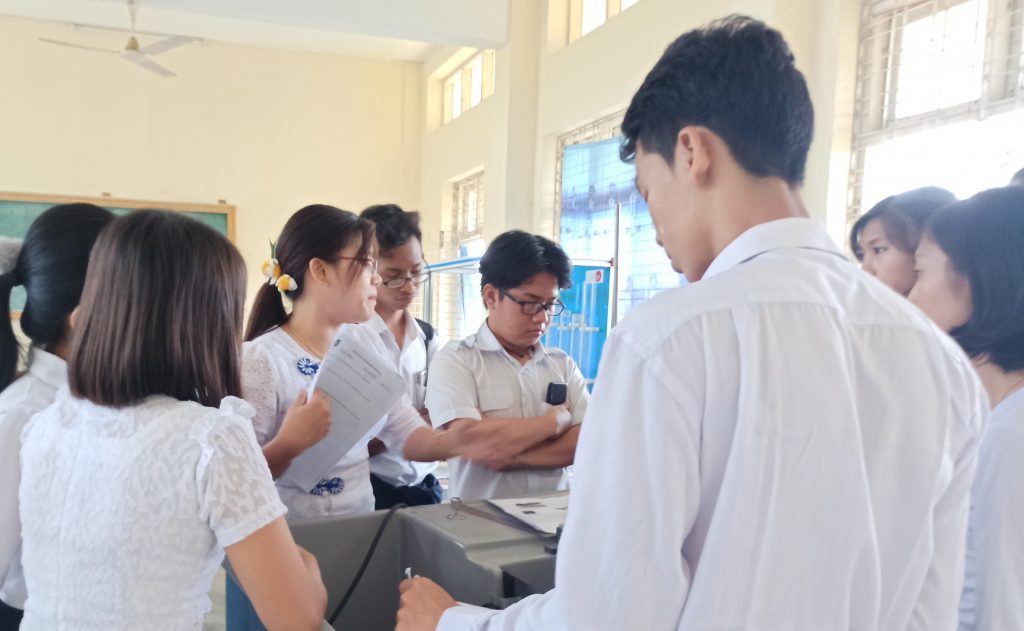 Hydraulic Lab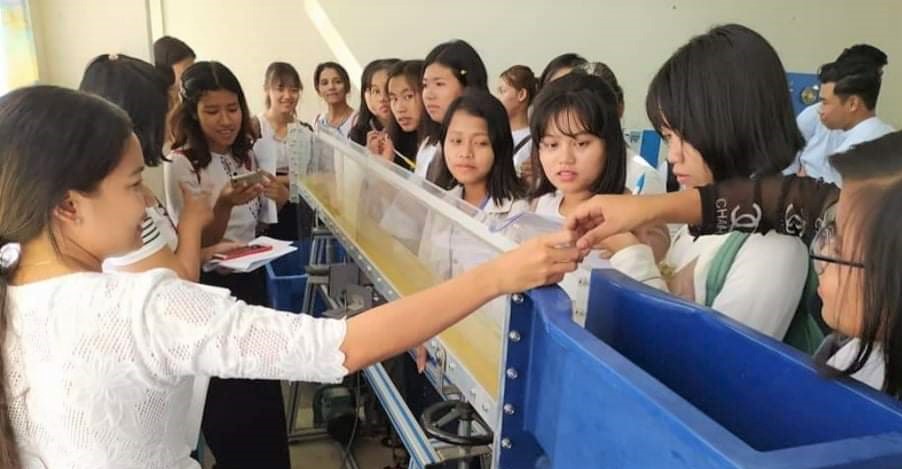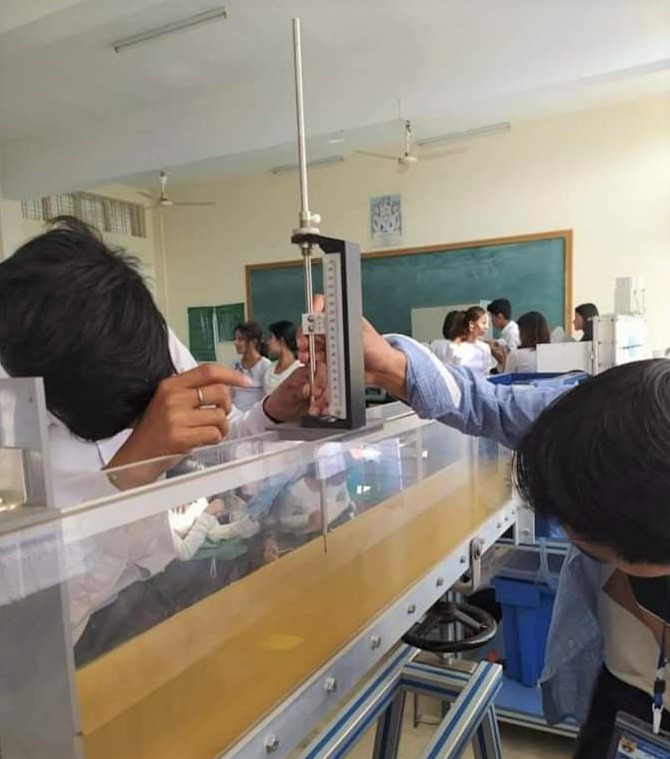 Geotechnical Lab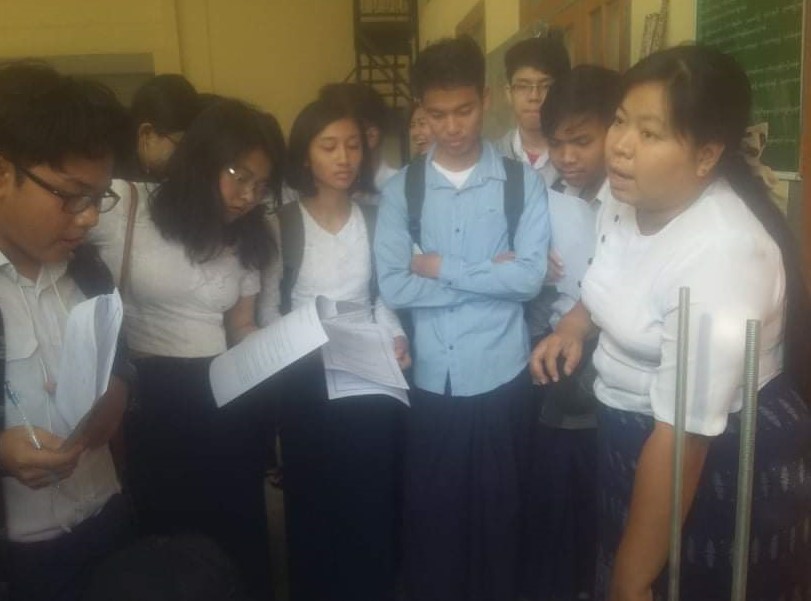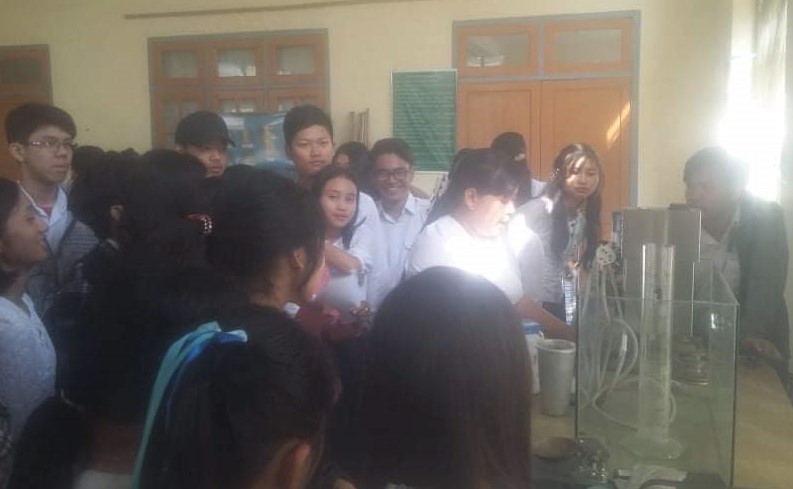 Environmental Lab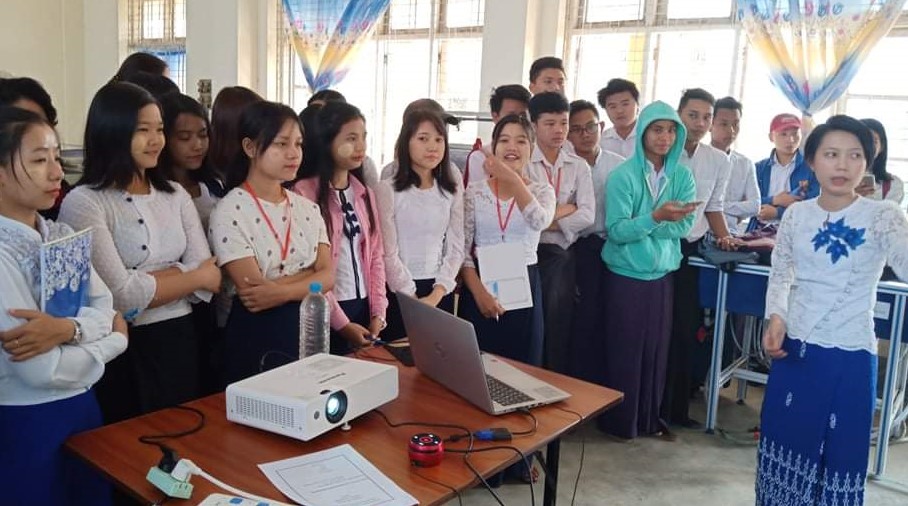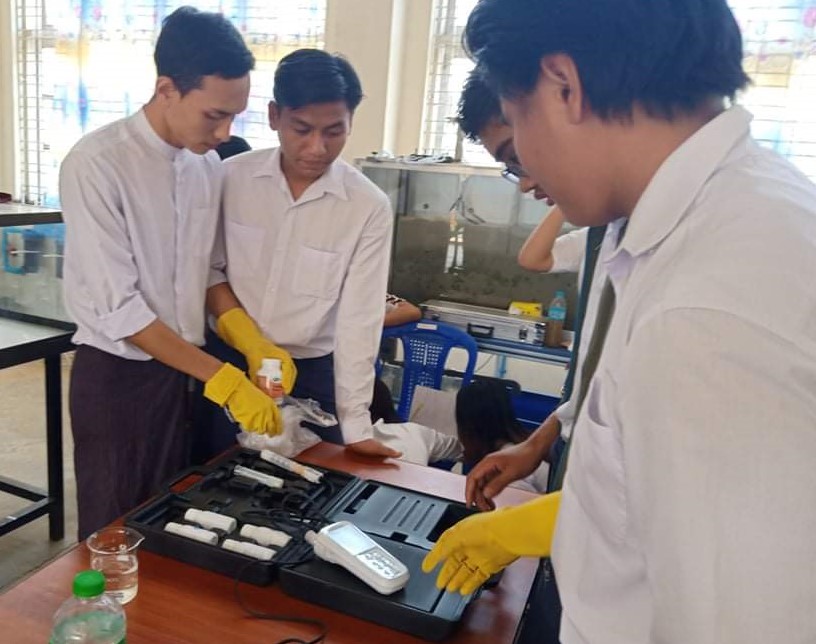 Carpentry and Masonry Workshop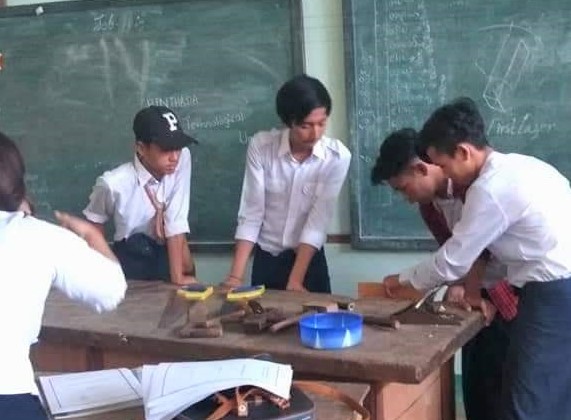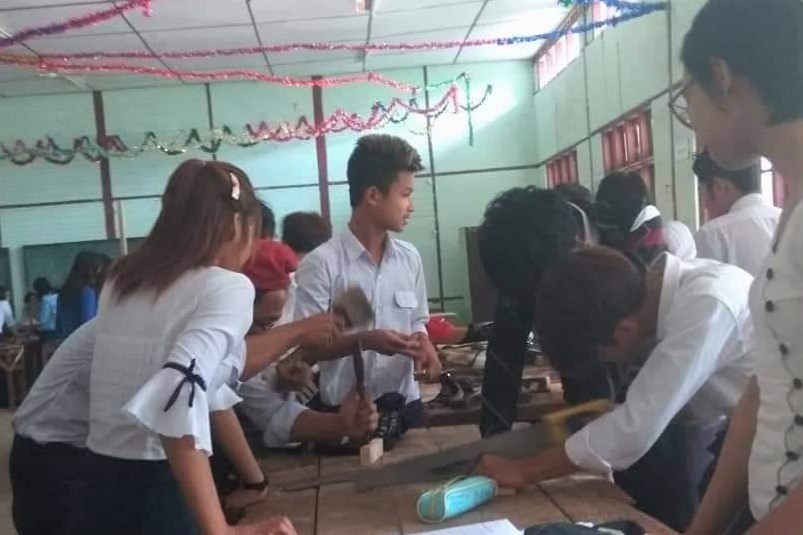 Semester I
( 2019 – 2020 ) Academic Year
No
Teacher's Name
Class
Subjects
1
Dr.Chaw Su Mon
6BE
5BE
6BE
CE-61018 Environmental Engineering III
CE-51016 Design of Hydraulic Structures
CE-61029 Integrated Design Project
2
Daw Su Myat Phyo
5BE
4BE
CE-51014 Design of Reinforced Concrete Structures I
CE-41024 Design of Reinforced Concrete Structures I
3
Daw May Aye Thu
2BE
3BE
CE-21012 Civil Engineering Drawing I
Geol-31011 Civil Engineering Geology I
4
Daw Meko Theint
4BE
5BE
6BE
CE-41013 Theory of Structures I
CE-51013 Theory of Structures III
CE-61019 Computer Application in Civil Engineering (Etabs Basic)

5
Daw War War Hlaing
4BE
5BE
CE-41014 Design of Timber Structures
CE-51024 Design of Steel Structures I
6
U Tin Aung Htet
2BE
5BE
CE-21011 Surveying I
CE-51022 Estimation & Specifications I
7
Daw Nyein Thu Soe
2BE
3BE
CE-21019 Workshop Technologies & Practices I
CE-31013 Mechanics of Materials I

8
Daw Nilar Myint
3BE
4BE
CE-31015 Geotechnical Engineering I
CE-41017 Railway & Airport Engineering
9
Daw Lay Lay Mon
3BE
4BE
CE-31017 Highway & Traffic Engineering I
CE-41016 Hydraulic Engineering & Applied Hydraulic I

10
Daw Aye Zar Ni Tun
3BE

5BE
CE-31011 Surveying III

CE-51018 Environmental Engineering I
11
Daw Khin May Aung
1BE
5BE
CE-11022 Building Materials & Construction I
CE-51012 Construction Engineering Management I
12
Daw Theint Theint Htay
3BE
6BE

CE-31016 Fluid Mechanics I
CE-61011 Humanities & Social Science
Semester II
( 2019 – 2020 ) Academic Year
No
Teacher's Name
Class
Subjects
1
Daw Su Myat Phyo
4BE
5BE
CE-42024 Design of Reinforced Concrete Structures II
CE-52014 Design of Reinforced Concrete Structures II
2
Daw May Aye Thu
2BE
3BE
CE-22012 Engineering Drawing II
Geol-32011 Geology II

3
Daw Meko Theint
4BE
CE-42013 Theory of Structures II
4
Daw War War Hlaing
4BE
5BE
CE-42026 Engineering Hydrology
CE-52024 Design of Steel Structures II
5
U Tin Aung Htet
2BE
5BE
CE-22011 Surveying II
CE-52022 Estimation & Specifications II
6
Daw Nyein Thu Soe
2BE
3BE
CE-22019 Workshop Technologies & Practices II
CE-32013 Mechanics of Materials II
7
Daw Nilar Myint
3BE
4BE
CE-32015 Geotechnical Engineering II
CE-42017 Railway & Airport Engineering
8
Daw Lay Lay Mon
3BE
4BE
CE-32017 Highway & Traffic Engineering II
CE-42016 Hydraulic Engineering & Applied Hydraulic II
9
Daw Aye Zarni Tun
5BE
CE-52018 Environmental Engineering II
10
Daw Khin May Aung
1BE
5BE
CE-12022 Building Materials and Construction II
CE-52012 Construction Engineering Management II
11
Daw Theint Theint Htay
3BE
5BE
CE-32016 Fluid Mechanics II
CE-52016 Design of Hydraulic Structures II
2018 – 2019 Academic Year Graduation Thesis Title
No.
Roll No.
Title
1
VI.C – 1
Analysis and Design of Flexible Pavement (Hinthata-Pathein Highway)
2
VI.C – 2
Design and Construction of Rigid Pavement (Khoung Gyi Road)
3
VI.C – 3
Analysis and Design of Three Storeyed Contemporary House
4
VI.C – 4
Analysis and Design of Square RC Building with and without Shear Wall in Same Seismic Zone
5
VI.C – 5
Design and Construction of Rigid Pavement (Daunggyi Road)
6
VI.C – 6
Design and Estimation of Flexible Pavement (Sinkyonelwin-Subpyargin Road)
7
VI.C – 7
Effect of Addition and Partial Replacement of Cement by Wood Ash on Strength Properties of Concrete
8
VI.C – 8
Flexible Pavement Construction of Highway (Hinthata-Sonekone-Myanaung Road)

9

VI.C – 9
Analysis and Design of Three Storeyed Duplex House (Microsoft Office Project)
10
VI.C – 10
Investigation of Sugarcane Bagasse Ash as A Supplement in Cement for Building Applications
11
VI.C – 11
Design of Flexible Pavement of Highway (Mudon-Kawpalyn)
12
VI.C – 12
Analysis and Design of Three Stroeyed Duplex Building (Primavera P6)
13
VI.C – 13
Analysis and Design of Three Stroeyed Shop Attached House
14
VI.C – 14
Planning and Design of Urban Drainage System for Hinthata Township (Shwe Ku Quarter)
15
VI.C – 15
Design and Construction of Rigid Pavement (Boltdin Road)
16
VI.C – 16
Analysis and Design of Six Stroeyed RC Building with Varying Bearing Capacity
17
VI.C – 17
Project Planning, Scheduling and Design of Two Stroeyed RC Building
18
VI.C – 18
Comparative Study Reinforced Concrete Building with and without Shear Wall
19
VI.C – 19

Analysis and Design of Two Stroeyed Building with Roofdeck and Swimming Pool
20
VI.C – 20
Analysis and Design of Three Stroeyed RC Building for Lecturer Rooms at TU Campus
21
VI.C – 21
Design and Construction of Rigid Pavement (Ithabyut-Gyogyanrgwin-Yaynauk Road)
22
VI.C – 22
Investigation of Rice Husk Ash (RHA) as A Supplement in Cement for Building Applications
23
VI.C – 23
Study on Condition Survey and Design of Rigid Pavement (Kha Yan Chaung Myit Yay Tin-Bagan Taung Village, Township Road)
24
VI.C – 24
Experimental Study on Strength Properties of Concrete using Brick Aggregate
25
VI.C – 25
Planning and Design of Urban Drainage System for Hinthata Township (Sagar Quarter)
26
VI.C – 26
Sustainable Urban Drainage System of Hinthata Township
27
VI.C – 27
Analysis and Design of Mat Foundation (Eight Stroeyed RC Building)
28
VI.C – 28
Design of Flexible Pavement (Kyankhinn-Myanaung)
29
VI.C – 29
Design of Flexible Pavement of Highway (TaloteHtaw-LayMyatNar Road)
30
VI.C – 30
Design of Flexible Pavement of Highway (TaloteHtaw-LayMyatNar Road)

31
VI.C – 31
Water Supply System for Inye-Gyi Village
32
VI.C – 32
Design and Analysis of water distribution System for single village (Phayar Gone Village
33
VI.C – 33
Planning and Design of Urban Drainage System for Hinthata Township (King Quarter)
34
VI.C – 34
Investigation of Fly Ash As A Supplement in Cement For Building Applications
35
VI.C – 35
Flexible Pavement Construction of Highway (Nateban-Ieto-Tethapyu Road)
36
VI.C – 36
Design of Flexible Pavement of Highway (Ingapu-Nyaungkyo Road)
37
VI.C – 37
Analysis and Design of Pile Foundation for Twelve Storeyed R.C Residential Building
38
VI.C – 38
Analysis and Design of Three Storeyed House with Roofdeck
39
VI.C – 39
Investigation on the Seismic Effects of RC Building
40
VI.C – 40
Analysis and Design of Water Distribution System for a Village
41
VI.C – 41
Analysis and Design of Arcade Attached House
42
VI.C – 42
Design and Estimation of Flexible and Rigid Pavement (Nat Maw Myay Char Road)
43
VI.C – 43
Analysis and Design of Twelve Storey RC Building with Shear Wall Including Elevator
44
VI.C – 44
Analysis and Design of Pile Foundation for Twelve Storeyed R.C Residential Building
45
VI.C – 45
Comparisan of Jointed Plain Concrete Pavement (JRCP) and Jointed Reinforced Concrete Pavement (JRCP)
46
VI.C – 46
Soil Stabilizar Using Lime in Subgrade Layer
47

VI.C – 47
Design and Estimation of Flexible Pavement of Highway (Kyan Khinn-Sate Thar-Akout Taung road)
48
VI.C – 48
High-wind performance of Building in Coastal Region
49
VI.C – 49
Solid Waste Management system (Takalay and Pabedan Quarter)
50
VI.C – 50
Solid Waste Management System for Hinthata (Phayargyee Quarter &ThonePinKwin Quarter)
51
VI.C – 51
The Effect of rice straw Ash as Admixture of Ordinary Portland Cement
52
VI.C – 52
Performance-based Seismic design of Seven Storeyed RC Building
53
VI.C – 53
Flexible Pavement Construction of Highway (Zalun-Kawtkat-Sharkae Road)
54
VI.C – 54
Design and Estimation of Flexible and Rigid Pavement ( HTU Campaus Road )
55
VI.C – 55
Comparison of Rigid Pavement Design With Granular Subbase and Cement Treate Subgrade
56
VI.C – 56
Analysis and Design of Automatic Fire Sprinkler System For Four Storey Residential Building
57
VI.C – 57
Design, Planning and Cost Estimation of Three
Storeyed R.C Modern House Building
58
VI.C – 58
Comparison of Rigid Pavement Design with Subbase and Dry Lean Concrete Subbase
59
VI.C – 59
Design of Road Drainage System for Prepartion on Nga-Won-Aye-Yar road